I have been building vehicles since 1987 when old VW's and mini trucks were the rides to have (and still are).  While the times and vehicles may have changed, the desire for customizing will never go away. We are here to help make those dreams and ideas come to life. 
Patina Customs is an independently owned shop located in Rio Rancho, NM that specializes in providing a wide variety of accessories and upgrades for all vehicles and motorcycles. 
Our goal is to pass on our passion for individuality and earn the trust of our customers.  We'll go the extra mile to make sure that happens and build it the way you want it.
Our craft is our pride.
BROWSE OUR LINE CARD
Motorcycle Parts & Accessories
We're adding more and more brands to our collection for the motorcycle enthusiast!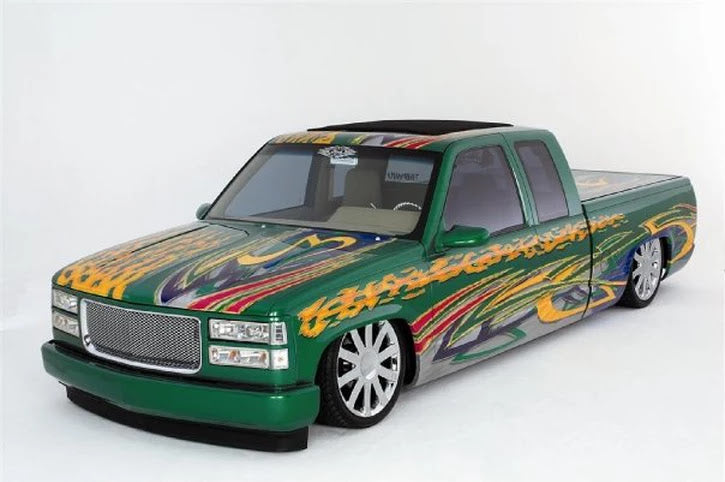 "The way to get started is to quit talking and begin doing." 
ABOUT US...
OUR COMMITMENT

Customer service is of the utmost importance to us here at Patina Customs. We strive for satisfaction of our customers and promise to give you the best pricing that we can.

You have an idea in your head about what you want to do to your ride. Just do it! We are here to help you make your dreams become a reality.
OUR BRANDS

A list of the brands available to you.....

Here is a list of the brands available to you......

ACCESS ROLL-UP COVERS

ADVANCED CLUTCH TECHNOLOGY

ADDICTIVE DESERT DESIGNS

ADVAN RACING

ADVANCE ADAPTERS

AEM PERFORMANCE ELECTRONICS

AEM INDUCTION SYSTEMS

AEROMOTIVE

AFE POWER

AGENCY POWER EXHAUST

AIRLIFT SUSPENSION

AIRLIFT PERFORMANCE

AIRRAID

AIR DOG

AKRAPOVIC EXHAUST SYSTEMS

ALCON SPECIALIST BRAKES & CLUTCHES

ALTA PERFORMANCE

AMERICAN FORCE WHEELS

AMERICAN RACING WHEELS

AMERICAN RACING HEADERS

AMERICAN TRUXX WHEELS

AMP RESEARCH

AMP TIRES

AMS PERFORMANCE

ANDERSON COMPOSITES

ANZO USA LIGHTING

ARB

ARP

ATI - AUTO TECH INTERIORS

ATP TURBO

ATS DIESEL PERFORMANCE

AUTO CUSTOM CARPETS

AUTOMETER

AVO TURBOWORLD

AVS

AWE TUNING

B&M RACING

BAJA DESIGNS

BANKS POWER

BBK

BBS WHEELS

BD DIESEL

BEDRUG

BEDSLIDE

BELLTECH SUSPENSION

BESTOP

BFG TIRES

BILSTEIN SUSPENSION

BLACK RHINO WHEELS

BLOX RACING

BMC AIR FILTER

BMR SUSPENSION

BODY ARMOR

BORG WARNER

BORLA EXHAUST

BOSCH

BOUNDARY RACING PUMPS

BRIAN CROWER

BUILTRIGHT INDUSTRIES

BULLETPROOF DIESEL

BULLETPROOF HITCHES

BULLYDOG

BUSHWACKER

CALI OFF-ROAD WHEELS

CLEVITE

CLUTCH MASTERS

COMETIC GASKET

COMPETITION CLUTCH

COMP CAMS

COOPER TIRES

CORSA PERFORMANCE

COSMIS RACING WHEELS

CP CARILLO

CSF ULTIMATE PERFORMANCE COOLING

CST SUSPENSION

CTEK

CURT HITCHES

CURRIE ENTERPRISES

CUSCO

DAKOTA DIGITAL

DBA USA

DEE ZEE

DEFI GAUGES

DESIGN ENGINEERING

DIABLOSPORT

DIAMOND EYE PERFORMANCE

DIRTY LIFE RACE WHEELS

DJM SUSPENSION

DKM PERFORMANCE CLUTCH

DOUG THORLEY HEADERS

DRIVESHAFT SHOP

DV8 OFFROAD

DYNOMITE DIESEL PRODUCTS

EAGLE SPECIALTY PRODUCTS

EBC BRAKES

EDELBROCK

EDGE PRODUCTS

EFI LIVE

EGR PREMIUM AUTO ACCESSORIES

EIBACH SUSPENSION

ENERGY SUSPENSION

ENKEI WHEELS

EXEDY CLUTCHES

EXERGY PERFORMANCE

FAB FOURS BUMPERS

FABTECH SUSPENSION

FASS FUEL SYSTEMS

FAST

FEL-PRO

fifteen52 WHEELS

FIRESTONE RIDE-RITE

FLEECE PERFORMANCE

FLOPRO

FLUIDAMPR

FORD PERFORMANCE

FOX SUSPENSION

FUELAB

FULL TRACTION SUSPENSION

GARRETT

GATES

GENERAL TIRE

GIBSON EXHAUST

GO FAST BITS

GOODYEAR TIRES

GORILLA PRODUCTS

GRAM LIGHTS

GRANT PRODUCTS

GREDDY

GREEN FILTER

GRIMM SPEED

GRIOT'S GARAGE

GROUND FORCE SUSPENSION

H&R

HANKOOK TIRES

HAWK PERFORMANCE

HEDMAN HEADERS

HELLA

HELO WHEELS

HI-LIFT JACKS

HIDDEN HITCH

HKS

HOGWORKZ

HORNBLASTERS

HOTCHKIS SUSPENSION

HP TUNERS

HUSKY LINERS

HYPERTECH

HYPER REV

INDUSTRIAL INJECTION

INJEN TECHNOLOGY

INNOVATE MOTORSPORTS

INVIDIA EXHAUST

ION WHEELS

IRON CROSS AUTOMOTIVE

ISC SUSPENSION

ITP WHEELS

JBA HEADERS

JET-HOT HEADERS

JLT PERFORMANCE

K&N

K1 TECHNOLOGIES

KARTBOY

KC HILITES

KENDA TIRES

KILLER BEE MOTORSPORTS

KING OFF-ROAD

KMC WHEELS

KONI SHOCKS

KOOKS HEADERS

KRAFTWERKS

KRAZE WHEELS

KUMHO TIRES

KW SUSPENSIONS

KYB SUSPENSION

LIQUIMOLY

LUND

MACKIN - MXP EXHAUST

MAGNAFLOW EXHAUST

MAHLE

MANLEY

MAXTRAC SUSPENSION

MAXXIS TIRES

MAYHEM WHEELS

MAZZI WHEELS

MBRP

McGARD

METHOD WHEELS

MGP CALIPER COVERS

MHT WHEELS

MICKEY THOMPSON TIRES & WHEELS

MILE MARKER WINCH

MOTO METAL

MOYUL

MOUNTUNE

MTX AUDIO

N-FAB

NEXTBASE DASHCAMS

nGAUGE

NGK

NITROUS EXPRESS

NITTO TIRES

OFF ROAD PERFORMANCE

OFF ROAD UNLIMITED

OHLINS

OLYMPIC 4X4

OMC OFFROAD

OPTIMA BATTERIES

PACBRAKE

PACE EDWARDS / LEER

PAINLESS WIRING

PEDAL COMMANDER

PEDDERS SUSPENSION

PERRIN PERFORMANCE

PIAA LIGHTING

PML

POISON SPYDER

POWERSLOT BRAKES

PPE

PROCOMP ALLOY WHEELS

PROCOMP SUSPENSION

PROCOMP TIRES

PROJECT KICS

PROJECT MU

PROTEK

PROTHANE

PSI CONVERSIONS (LS HARNESSES)

PYPES

QTP EXHAUST

RACE STAR WHEELS

RACECHIP

RACESENG

RALLYARMOR

RAMPAGE PRODUCTS

RANCHO SUSPENSION

RAYS

RBP

READYLIFT SUSPENSION

REBEL RACING OFFROAD

RECARO SEATS

REDLINE SYNTHETIC OIL

REESE HITCHES

REMARK EXHAUST

RETRAX BED COVERS

REVEL GAUGES

REVTEK

RIDLER WHEELS

RIGID INDUSTRIES

ROAD ARMOR

ROCK KRAWLER SUSPENSION

ROCK SLIDE ENGINEERING

ROCK TAMERS

ROLL-N-LOCK BED COVERS

RS*R

RUBICON EXPRESS

RUGGED OFF-ROAD

RUSSEL PERFORMANCE

RYWIRE MOTORSPORT

SCHRADER TPMS

SCT PERFORMANCE

SEIBON CARBON FIBER

SHARKROAD EXHAUST

SINISTER DIESEL

SKUNK 2 RACING

SKYJACKER SUSPENSION

SMARTY PERFORMANCE

SMY PERFORMANCE

SNOW PERFORMANCE

SOUTH BEND CLUTCH

SPARCO

SPC PERFORMANCE

SPEC CLUTCHES

SPECTRE PERFORMANCE

SPYDER

SSR WHEELS

ST SUSPENSIONS

STAINLESS BROTHERS

STAINLESS WORKS

STAMPEDE SUTOMOTIVE ACCESSORIES

STANADYNE

STOPTECH BRAKE SYSTEMS

SUPER SWAMPER TIRE

SUPERTECH

SUPERCHIPS

SUPERLIFT SUSPENSION

SUPERWINCH

TANABE

TEIN

THULE

TITAN FUEL TANKS

TONNO PRO

TORQUE SOLUTIONS

TOUREN WHEELS

TOYO TIRES

TRAILMASTER SUSPENSION

TRANSFER-FLOW TANKS 

TRUHART SUSPENSION

TS PERFORMANCE

TSW WHEELS

TUFF COUNTRY SUSPENSION

TUFFY ECURITY PRODUCTS

TURBOXS

TURBOSMART

UNDERCOVER TRUCK COVERS

VIAIR

VIBRANT PERFORMANCE

VICTOR REINZ

VOLANT PERFORMANCE

VORSTEINER WHEELS

WAGNER TUNING

WALBRO

WARN WINCHES

WEAPON R

WEBER CARBURETION

WEHRLI

WELD RACING

WESTIN

WESTERN CHASSIS

WHATMONSTERSDO.COM

WHEEL MATE

WHITELINE

WILWOOD BRAKES

WISECO

YETI COOLERS

YUKON GEAR & AXLE

ZEX

AND MORE.......!
WHAT WE DO

Patina Customs offers hundreds of brands of aftermarket automotive and motorcycle parts and accessories. If you don't see it, just ask us and we'll do everything we can to get it for you.

Installation is also available for most parts that we sell.
TESTIMONIALS

Thank you for your outstanding service. I'm overly pleased with the way my truck turned out. - N.D.

Always have the best price, service and communication! They also build, so they know what they are talking about. Never an issue with them! Recommend every time. - M.G.

Jeff at Patina Customs is the real deal. Knowledgeable, prompt, great prices and service with a huge range of products available. My go-to guy should be your go-to guy! - M.O.

I've ordered a bunch of stuff from Patina Customs and Jeff always has what I need. He also has over 30 years of experience working on all types of different vehicle makes and models. He does excellent work and is a current/former first responder too! I've referred friends and family to him for many things and Patina Customs will always be at the top of my list. Thanks Jeff! - L.D.